YemiAjibade Biography……Are you eager to know certain important facts about the popular Nigerian actor YemiAjibade? If yes, we have brought them here for your perusal. This article brings you information on the birth and parentage, education, profession,as well as his family life.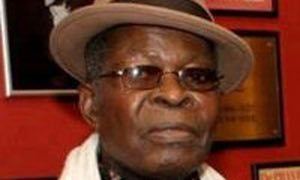 Full Name; AdeyemiOlanrewaju Goodman Ajibade
Popular Name; YemiAjibade, Yemi Goodman.
Father' Name; N/A
Mother's Name; N/A
Date of Birth; 28 July 1929
Professions; playwright, actor, producer and director
Family; A wife, three children, and three siblings.
Nationality; Nigerian
State / LGA of origin; Osun State/ÌláÒràngún
Birth;
YemiAjibadewas born on the 28 July 1929 at ÌláÒràngún, Osun State. He had his secondary education from Abeokuta Grammar School.
 See also: Biography of Pete Edochie and Net worth
Education;
He attended Abeokuta Grammar School, and later pursued studies in London, at Kennington College of Law and Commerce (1955), at The Actors' Workshop (1960), and from 1966 to 1968 at the London School of Film Technique. In 1966he studied and obtained a Master's degree at Royal Holloway, University of London.
Profession;
Ajibade had mastery in many professions ranging from writing, presenting and acting.His acting portfolio where filled with roles played in television series.
He started his movie career in 1960 when he was invited to feature in a soap opera set in London and designed for African viewers with the title No copy survives. He took the role of a social worker, moving around England and settling quarrels. Since then, he has featured in numerous movies. The list of movies he featured are;
2007: Flawless
2007: Silent Witness (TV series)
2004: Exorcist: The Beginning
2002: Dirty Pretty Things
1995: Skin (short)
1993: Rwendo (short)
1991: London Kills Me
1991: Smack and Thistle (TV movie)
1989: Behaving Badly (TV mini-series), "The Tale of the Turbot"
1987: Truckers (TV series), "Stinking Fish"
1981: Prisoners of Conscience (TV series), "Nelson Mandela"
1976: The Fosters (TV series), "Sonny Gets a Patron"
1976: Shades of Greene (TV series), "A Chance for Mr. Lever"
1974: Shatter
1973: Full House (BBC Two TV series), "Black Blast!" cast member – Episode dated 3 February 1973
1972: The Black Safari (TV movie)
1970: Carry On Up the Jungle
1969: The Power Game (TV series), "One Via Zurich"
1968: Dixon of Dock Green (TV series), "English – Born and Bred"
1968: The Devil Rides Out (uncredited)
1968: 30 Is a Dangerous Age, Cynthia (uncredited)
1967: Thirty-Minute Theatre (TV Series), "Failpass"
1967: Theatre 625 (TV series), "Hotel Torpe"
1966: The Witches (uncredited)
1965: Danger Man (TV series), "Loyalty Always Pays"
1965: The Wednesday Play (TV series), "For the West"; "Clear Sundays"
1964: Espionage (TV series), "Once a Spy"
1964: Festival (TV series), "August for the People"
1963: Armchair Theatre (TV series), "The Chocolate Tree"
1963: Suspense (TV series), "Waiting for Wanda"
1962: The Sword in the Web (TV series)
Most read: Biography of Adewale Akinnuoye-Agbaje and Net Worth
Plays by YemiAjibade
Award (unproduced)[27]
Behind the Mountain – first produced: Unibadan Masques, 1977
Fingers Only – first produced: The Factory, Battersea Arts, London (Black Theatre Co-operative, directed by Mustapha Matura), 1982. As Lagos, Yes Lagos, BBC Radio, 1971.
A Long Way from Home – first produced: Tricycle Theatre, London (directed by Nicolas Kent), 1991
Mokai – first produced: Unibadan Masques, 1979
Parcel Post – first produced: Royal Court Theatre, London, 16 March 1976[27]
Waiting for Hannibal – first produced: Drill Hall, London (Black Theatre Co-operative, directed by Ajibade with Burt Caesar), 1986
Para Ginto (black version of Peer Gynt)[27] – Tricycle Theatre, 1995
Books by Yemi Ajibade
Fingers Only and A Man Names Mokai. Ibadan: Y-Book Drama series, 2001, 142 pp. ISBN 978-2659-88-6
Parcel Post and Behind the Mountain. Ibadan: Y-Book Drama series, 2001, 147 pp. ISBN 978-2659-89-4
Gwyneth Henderson and Cosmo Pieterse (eds), Nine African Plays for Radio (includes "Lagos, Yes Lagos" by YemiAjibade), Heinemann Educational Books, AWS, 127, 1973.
Honors and achievements;
To commemorate his incredible contributions to literature, and acting in general, he was honored as follows;
In 1975 he was appointed as a tutor by the Inner London Education Authority
In 2008 Ajibade was honored as a leader of British-African theatre
Family;
YemiAjibade is married, he has three children, and three siblings. Information about his parents are not available at the moment.
Tags: AdeyemiOlanrewaju Goodman Ajibade, Biography of YemiAjibade and Net worth, YemiAjibade and Net worth, YemiAjibade Biography