University of Port Harcourt: Location, Courses, Admission and Accommodation, Cut-of-marks and Fees
The University of Port Harcourt is arguably one of the best higher institution of learning in Nigeria all round.
In this write-up, we've verbalize explicitly on the university's environment, location, programmes, admissions and fees.
About UNIPORT
The University of P Harcourt fondly called 'UNIPORT' is a public higher education institution located in the large city of Port Harcourt, Rivers State. The University with it student population or 40,000 has a strong focus on providing the work force with skilled manpower as graduates and also exploring Petroleum Engineering by seeing the demands of it.
The Universities started in 1977 and currently ranked amongst the top Universities in the Country.
University of Port Harcourt
Motto
For Enlightenment and Self-Reliance
Established
1975
Vice Chancellor
Prof. Ndowa Lale
Location
Port Harcourt, Rivers State, Nigeria
Student Population
45,000–55,000
Website
www.uniport.edu.ng
The University (Uniport) offers courses and programs leading to officially recognized higher education degrees such as pre-bachelor degrees (i.e. certificates, diplomas, associate or foundation degrees), bachelor degrees, master degrees, doctorate degrees in several areas of study.
Philosophy Of The University
The Philosophy of the University of Port Harcourt is: commitment to academic freedom, tolerance, probity, equal opportunity and respect for cultural diversity.
The Vision of the University of Port Harcourt is to see the institution ranked amongst the best universities in Africa, renowned for its teaching, research, creativity and innovation.
The Mission of the University of Port Harcourt is the pursuit of academic excellence, advancement of knowledge and community service through quality teaching, life-long learning, social inclusion, strengthening civil society and policy-relevant research that addresses the challenges of contemporary society. To achieve this Mission, the University is guided by the spirit of enquiry, self-reliance, fairness, ethical and professional standards of the disciplines.
How The University of Port Harcourt Began
UNIPORT was established in 1975 by the then federal government as a University College, Port Harcourt and was given a status to effect as a University in 1977.
In 1977, the university was running only six schools which were the Schools of: Humanities, Social Sciences, Biological Sciences, Chemical Sciences, Physical Sciences, Educational Studies and
School of Science Laboratory Technology.
It later changed from a school system to a faculty system in 1982 and today now has twelve faculties including Engineering and Medical sciences.
Courses Offered At The University of Port Harcourt
UNIPORT has about twelve (12) faculties which offers academic departmental courses at various levels. They include the following:
Agriculture
Agric Economics/Extension
Agricultural Economics and Farm Management
Fisheries
Forestry & Wildlife
Engineering
Chemical Engineering
Electrical Engineering
Electrical/Electronics Engineering
Mechanical Engineering
Petroleum & Gas Engineering
Civil Engineering
Medicine & Pharmarcy
Medicine & Surgery
Nursing
Pharmacy
Anatomy
Physiology
Arts, Management & Social Science
Accounting
Banking & Finance
Creative Arts
Performing Arts
Economics
English Language
French
History & Diplomatic Studies
Hospitality & Tourisim Management
Fine Arts & Design
Languages & Linguistics
Marketing
Music
Philosophy
Religious and Cultural Studies
Sociology
Theatre & Film Studies
Political Science & Administrative Studies
Science & Technology
Animal & Environmental
Biology
Biochemistry
Computer Science
Industrial Chemistry
Chemistry
Mathematics
Geology
Microbiology
Physics
Plant Science & Biotechnology
Physics with Electronics
Science Laboratory/Technology
Pure & Applied Mathematics
Zoology
Education
Adult & Non-Formal Education
Adult Education
Education & Fine Art
Education & Accounting
Education & Biology
Education & Chemistry
Education & Computer Science
Education & Economics
Education & English
Education & French
Education & Geography
Education & Mathematics
Education & Physics
Education & Political Science
Education & Religious Studies
Education & Social Science
Physical Education
Science Education
Human Kinetics & Health Education
Educational / Psychology, Guidance And Counseling
Education & Arts
Education Foundation & Management
University of Port Harcour Admission Requirements
The University of Port Harcourt has a selective admission policy based on entrance examinations and students' past academic record and grades.
Admission into the university is very competitive as out of thousands applying for admission, only about 10% will go through. This has make the institution a most selective.
For Undergraduates
100 Level Entry:
Applicants must possess a minim five (5) credit passes in SSC O'LEVEL/NECO/NABTEB or equivalent at not more than two (2) sittings obtained in subjects relevant to the propose of study. The 5 credits must be in Mathematics, English and 3 related subjects.
In addition, applicants must register for and attain the prescribed cut-off (usually 200 for sciences and 180 for non-sciences) in UTME, and also prepare for screening process.
To better your chances of gain admission, its advisable to choose institution as your University of first choice, and also perform very well in Post-UTME examination.
200 Level (Direct-entry) Students:
Applicants must have a National Diploma which should come from a recognized institution in Nigeria.
Applicants are required to have a Nigerian Certificate in Education (NCE) in a subject(s) related to the proposed field of with a minimum of one unit and three advanced level passes.
Prospective students must also have acceptable score in the Direct screening exercise, and satisfy a certificate requirements.
Admission Requirement For Masters In UNIPORT
Applicants are required to have degree from a University recognized by the Senate of UNIPORT in a relate of study. A Postgraduate Diploma related field from a University recognized by the school would also be an advantage.
University of Port Harcourt Admission Requirements For PhD
Candidates applying for the Doctorate Philosophy degree programmes should possess a master's degree with minimum score of not less than 60 cumulative grade point average (CG 3.5 on a 5-point scale, in a relevant of study from a University recognized by the Senate of UNIPORT.
Applicants are to also forward transcript of their academic records, three referee's reports, with (2) pref acquainted with the candidate academic works.
Applicants are also advised to prepare for an interactive session with the school postgraduate studies.
UNIPORT Cut off Mark
Cut off mark is an agreed score set by a particular institution as a basics of admitting students into the department of study . This score is usually accredited to candidates based on their performance in a particular examination. However, students who have scored above the required cut off mark will be given admission and preferentially treated in admission process above those who have met the exacts cut off mark.
The University of Port-Harcourt does not really have a specific cut off mark for courses. However, candidates who have scored a minimum of 180 in UTME examination is eligible to apply for admission into any of their choice courses.
Due to the high number of students wishing to study in the university of Port Harcourt, the admission processes is competitive and admissions is given based on the higher the jamb scores, the higher the chances of being considered for admission.
UNIPORT School Fees
According to the authorities of the University of Port-Harcourt, these are the fees and amount which is payable as school fees by the students of the institution. We've explicate them in faculties for your convenience.
Faculty of Agriculture: N127,150
Engineering: N114,600
Education: N97,950
Arts & Humanities: N113,450
Science: N125,500
College of Health Science: N102,750
Management Science: N92,150
Social Science: N112,150
Accommodation At The University
The University of Port Harcourt has a large number of hostels; the hostels are for both male and female students.
The fees for the hostel is around N20, 350. Not all hostels in Uniport are allocated to all students; some hostels are reserved for some set of students and faculties.
However, the hostels are issued on first come first served basis.
Students can book for Hostel accommodation at the sum of N500
Pay Hostel Accommodation fee N19,850
Structures At The University Environment
The prestigious University of Port Harcourt is home to a lot standard facilities and service utilities. Amongst them include student halls residence, a guest inn, staff quarters, online portals, administrative building, faculty blocks, lecture theatres, sports facilities, a health service centre, Choba Park, an arts theatre (called the Crab) and so much more.
Staffs and students of the institution can boast having a nice learning environment that also supports extracurricular activities which is part of the job.
What To Know About UNIPORT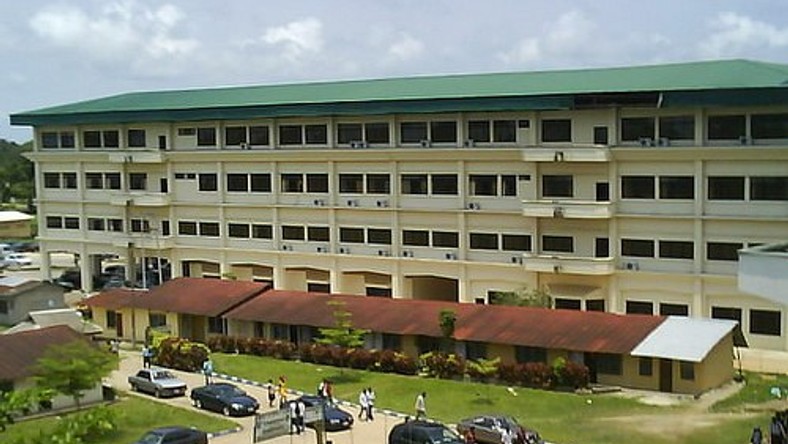 The University has recorded some groundbreaking achievements, one of such is recognition as being the first University train the first set of nuclear engineers Nigeria.
The university is located in the prestigious oil rich city of Port Harcourt. The school is situated in a secure place in the city.
This great citadel of learning has a number of notable alumni, some of which include; Former President of Nigeria GCFR, Goodluck Jonathan; Minister of transportation, Rotimi Amaechi and numerous Nigerian Senators.
The University also won a grant from the world bank to build a centre excellence in oilfield chemicals and noted as one of the best institutions Nigeria, involved in the study of business ethics and indigenous entrepreneurs development.
What's your take on this? Do you have any questions, drop them in the comment box.
Nonetheless, we believe this article was interesting, if yes, don't hesitate using our share button below to inform – friends and relation via Facebook, Twitter or Google+.
Tags: UNIPORT, UNIPORT Location, UNIPORT Location and Admission Requirement