About Kano State
Kano State is a state located in North-Western Nigeria. Created on May 27, 1967 from part of the Northern Region, Kano state borders Katsina State to the north-west, Jigawa State to the north-east, and Bauchi and Kaduna states to the south. The capital of Kano State is Kano.
Kano State is the second largest industrial center in Nigeria and the largest in Northern Nigeria with textile, tanning, footwear, cosmetics, plastics, enamelware, pharmaceuticals, ceramics, furniture and other industries. Others include agricultural implements, soft drinks, food and beverages, dairy products, vegetable oil, animal feeds etc.
History
The Hausa Kingdom of Kano was based on an ancient settlement of Dalla Hill. While small chiefdoms were previously present in the area, according to the Kano Chronicle, Bagauda, a grandson of the mythical hero Bayajidda,. became the first king of Kano in 999, reigning until 1063. Muhammad Rumfa ascended to the throne in 1463 and reigned until 1499.
During his reign he reformed the city, expanded the Sahelian Gidan Rumfa (Emir's Palace), and played a role in the further Islamization of the city as he urged prominent residents to convert. The Hausa state remained independent until the Fulani conquest of 1805.
At the beginning of the 19th century, Fulani Islamic leader Usman dan Fodio led a jihad affecting much of northern Nigeria, leading to the emergence of the Sokoto Caliphate. Kano became the largest and most prosperous province of the empire. This was one of the last major slave societies, with high percentages of enslaved population long after the Atlantic slave trade had been cut off.
Heinrich Barth, a classical scholar who spent several years in northern Nigeria in the 1850s, estimated the percentage of slaves in Kano to be at least 50%, most of whom lived in slave villages.
The Kano Chronicle stated that the Kingdom of Kano was founded as one of the Seven True Hausa States or Hausa Bakwai by Baguada in 999. Bagauda was a grandson of Abuyazidu (Bayajda), who was acknowledged by legend to be the origin of the Hausa people. During the rule of King Gajemasu from 1095 to 1134, the kingdom's capital was transferred from Sheme towards the current location. In 1340s, Islam was introduced to Kano by Malinke scholars, who originated from Mali Empire. Yaji, who ruled from 1349 to 1385, may have been the first Muslim king of Hausa. The religion Islam got the blame for Kano's loss against Zaria around 1400 and it was relinquished by King Kanajeji.
People & Culture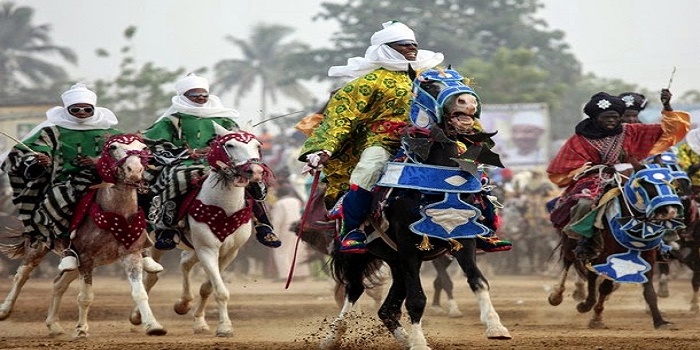 According to the 2016 PON census (unofficial) figures from Nigeria Kano State had a population totaling 9,383,682. Officially, Kano State is the most populous state in the country. The state is mostly populated by Hausa people.
The official language of Kano State is Hausa language, but Fulani languages is commonly spoken.
Geography
Kano State of the Federal Republic of Nigeria lies between latitude 130N in the North and 110N in the South and longitude 80W in the West and 100E in the East. Kano State is made up of the following forty four local government areas: Ajingi, Albasu, Bagwai, Bebeji, Bichi, Bunkure, Dala, Dambatta, Dawakin Kudu, Dawakin Tofa, Doguwa, Gabasawa, Garko, Garun Mallam, Gaya, Gezawa, Gwale, Gwarzo, Kabo, Karaye, Kibiya, Kiru, Kumbotso, Kura, Kunchi, Madobi, Makoda, Minjibir, Kano Municipal, Nassarawa, Rimin Gado, Rogo, Shanono, Sumaila, Takai, Tarauni, Tsanyawa, Tudun Wada, Tofa, Warawa and Wudil. The total land area of Kano State is 20,760sq kilometers with a population of 9,383,682 (2006 provisional result). Some Local Government areas of Jigawa State were part of Kano Emirate before the creation of that state. The people of Kano State who have no other hometown call themselves Kanawa.
Kano City has been the capital of Kano State since the earliest recorded time. It is located on latitude 12.000N and longitude 8.300E within the semi-arid Sudan savannah zone of West Africa about 840 kilometers from the edge of the Sahara desert. Kano has a mean height of about 472.45m above sea level.
Kano City has expanded over the years and has become the third largest conurbation in Nigeria; it had a population of 1,412,255 when the last population census was conducted in 1991. It is made up of six local government areas: Municipal, Gwale, Dala, Tarauni, Nassarawa and Fagge. Kano's most enduring legacy Gidan Rumfa (Emir's Palace) the seat of Kano's prestigious Sarauta institution (Kingship) built over five hundred years ago is located in the Municipal Local Government Area. The Kano State Government House is located in Tarauni Local Government Area.
Climate
The temperature of Kano usually ranges between a maximum of 330C and a minimum of 15.80C although sometimes during the harmattan it falls down to as low as 100C. Kano has two seasonal periods, which consist of four to five months of wet season and a long dry season lasting from October to April. The movement of the South West maritime air masses originating from the Atlantic Ocean, influences the wet season which starts from May and ends in September. The commencement and length of wet season varies between northern and southern parts of Kano State. The length of the season in Riruwai, which is southern part of Kano State is six months from early May to late September. While in northern parts it is from June to early September.
The average rainfall is between 63.3mm + 48.2mm in May and 133.4mm + 59mm in August the wettest month. The movement of the tropical maritime air masses from the Southwest to the North determines the weather of Kano State during the wet season. This air mass carries a lot of moisture from over the Atlantic Ocean. This moisture condenses when it is forced to rise by convection or over a barrier of highlands or an air mass; it then falls back as rain. The period of the heights occurs when the sun passes over West Africa between March and June.
The dry season starts in October and lasts till about April of the following year. Temperatures are low during this period because the sun is in the Southern Hemisphere and because of movement of the desiccating continental air mass, which originates from the Sahara area and blows from the Northeast carrying along with it the harmattan dust. This is also the harvesting season.
Vegetation
The vegetation of Kano State is the semi-arid savannah. The Sudan Savannah is sandwiched by the Sahel Savannah in the north and the Guinea Savannah in the south. The savannah has been described as the zone that provides opportunity for optimal human attainment. This is because it is rich in faunal and floral resources, it is suitable for both cereal agriculture and livestock rearing, and the environment is relatively easy for movement of natural resources and manufactured goods (Connah 1987: 97-99).
The canopies of the trees are very wide and most of them are less than 20m tall. The following are the common trees of Kano State: Acacia albida (Hausa: gawo), Acacia nilotica (Hausa: gabaruwa), baobab Adanosia digitata (Hausa: kuka), Anogeissus leiocarpus (Hausa: marke), neem Azadirachta indica (Hausa: dogon yaro), desert date Balanties aegyptica (Hausa aduwa), ebony Diospyros mespiliformis (Hausa: kanya), mahogany Khaya senegalensis (Hausa: madachi), locust bean Parkia clappertoniana (Hausa: dorawa), Piliostigma thonningii (Hausa: kargo), Sclerocarya birrea (Hausa: danya), Vitex doniana (Hausa: dinya), Ziziphus spina-christi (Hausa: kurna) (Nichol 1988). These trees are very resistant to drought.
It has been suggested that these products have been available as part of the vegetable resources in the West African savannah for two to three thousand years. Domesticated crops include sorghum, millet and African rice, several indigenous yams, two African groundnuts, cowpeas and black beniseed (Connah 1987:101).
The natural vegetation of Kano State has been modified as result of several centuries of human activities such as bush clearing and burning for cultivation and hunting as well as animal grazing.
Economy and society
Agriculture
Subsistence and commercial agriculture is mostly practiced in the outlying districts of the state. Some of the food crops cultivated are millet, cowpeas, sorghum, maize and rice for local consumption while groundnuts and cotton are produced for export and industrial purposes. During the colonial period and several years after the country's independence, the groundnuts produced in the state constituted one of the major sources revenue of the country. Kano State is a major producer of hides and skins, sesame, soybean, cotton, garlic, gum arabic and chili pepper.
Related Post: Mallam Aminu Kano International Airport and Location
Commerce
Commercial activities in Kano first developed with the establishment of the Kurmi market by the Emir of Kano Muhammadu Rumfa in the 16th Century CE. Subsequent leaders made contributions to the emergence of Kano as a leading commercial center in Sudanic Africa. During the Caliphate period in the 19th century the Emirs Ibrahim Dabo and Sulaimanu encouraged traders to move from Katsina, capitalising on raids from the Hausa Sultanate of Maradi. The Jihad leaders of the Caliphate encouraged Kola nut trade and Kano was the greatest beneficiary with an annual turnover of about $30 million. Craft industries also evolved in the pre-colonial period contributing to the prosperity of the province.
Industry
Kano State is the second largest industrial center after Lagos State in Nigeria and the largest in Northern Nigeria with textile, tanning, footwear, cosmetics, plastics, enamelware, pharmaceuticals, ceramics, furniture and other industries. Others include agricultural implements, soft drinks, food and beverages, dairy products, vegetable oil, animal feeds etc.
Tourism
The tourist attractions in the state include:
Kurmi Market established in the 15th century,
Kano's centuries-old city wall,
Gidan Rumfa (Emir's Palace, the oldest continuous site of authority in Nigeria)
kano zoo. Zoo road
Universities
Kano state is blessed with universities which include one federal, two states universities and one first private university.
Bayero University Kano (BUK) founded in the year 1977.
Kano State University of Technology (KUT), currently Kano University of Science and Technology (KUST), created in the year 2000.
Yusuf Maitama Sule University Kano (YUSMUK), formerly known as North West University, Kano (NWU, kano) established in 2012.
Skyline University Nigeria (SUN) founded in the year 2018.
Research Centers
The research centers and institute in Kano State:
Aminu Kano Center for Democratic Research & Training
Center For Research and Documentation, Kano
Institute For Agricultural Research, Kano
Digital Bridge Institute, Kano
Polytechnics and Colleges
List of the approved Polytechnics and Colleges in the state of Kano.
Federal College of Education, Kano
Federal College of Education (Technical), Bichi
Federal College of Agricultural Produce Technology, Kano
Kano State Polytechnic
Kano State School of Health Technology
Kano State School of Hygiene
Kano state College of Arts, Sciences and Remedial Studies (CAS,Kano)
Rabi'u Musa Kwankwaso College of Advance and Remedial Studies (RMK CARS,T/Wada)
Audu Bako School of Agriculture, Dambatta
Aminu Kano College of Islamic and Legal Studies, Kano
Sa'adatu Rimi College of Education, Kano
Aminu Dabo School of Health Sciences & Technology
Local Government Areas
Kano State consists of forty-four (44) Local Government Areas (LGAs). They are:
LGA Name
Area (km2)
Census 2006
population
Administrative capital
Postal
Code
Local Government Chairman and the Head of the Local Government Council
Fagge
21
200,095
Waje
700
Alh. Habibu Saleh Mai Lemo (APC)
Dala
19
418,759
Gwanmaja
700
Alh. Ibrahim Suleiman Dan'isle (APC)
Gwale
18
357,827
Gwale
700
Alh. Abdullahi Zubair Imam (APC)
Kano Municipal
17
371,243
Kofar Kudu
700
Alh. Mukhtari Ishaq Yakasai (APC)
Tarauni
28
221,844
Unguwa Uku
700
Engr. (Dr.) Mukhtar Umar Zakari (APC)
Nassarawa
34
596,411
Bompai
700
Alh. Lamin Sani Kawaji (APC)
Kumbotso
158
294,391
Kumbotso
700
Alh. Lawan Isma'il (APC)
Ungogo
204
365,737
Ungogo
700
Alh. Shehu Aliyu Ungogo (APC)
Kano Metropolitan Area
499
2,828,861
700
Dawakin Tofa
479
246,197
Dawakin Tofa
701
Alh. Saleh Rabiu (APC)
Tofa
202
98,603
Tofa
701
Alh. Yaro Inuwa (APC)
Rimin Gado
225
103,371
Rimin Gado
701
Alh. Halliru Audu Yalwa (APC)
Bagwai
405
161,533
Bagwai
701
Alh. Ado Isyaku Daddauda (APC)
Gezawa
340
282,328
Gezawa
702
Alh. Ibrahim Isa Jogana (APC)
Gabasawa
605
211,204
Zakirai
702
Alh. Ghali Adamu Garun Danga (APC)
Minjibir
416
219,611
Minjibir
702
Alh. Nasiru Garba Kunya (APC)
Dambatta
732
210,474
Dambatta
702
Muhammadu Audu Wango (APC)
Makoda
441
220,094
Makoda
702
Abubakar Salisu Makoda (APC)
Kunchi
671
110,170
Kunchi
703
Alh. Aminu Adamu Gwarmai (APC)
Bichi
612
278,309
Bichi
703
Alh. Muhammad Sani Muqaddas (APC)
Tsanyawa
492
157,730
Tsanyawa
703
Alh. Safiyanu Muhammad (APC)
Shanono
697
139,128
Shanono
704
Alh. Malami Ibrahim Shanono (APC)
Gwarzo
393
183,624
Gwarzo
704
Alh. Sunusi Abdullahi Gwarzo (APC)
Karaye
479
144,045
Karaye
704
Alh. Ibrahim Ahmad Karaye (APC)
Rogo
802
227,607
Rogo
704
Alh. Abubakar Mustapha Rogo (APC)
Kabo
341
153,158
Kabo
704
Alh. Mamuda Idris Kabo (APC)
Northern Kano State
8,332
3,143,899
701 to 704
Bunkure
487
174,467
Bunkure
710
Alh. Rabiu Bala (APC)
Kibiya
404
138,618
Kibiya
710
Yusuf Shehu Kibiya (APC)
Rano
520
148,276
Rano
710
Alh. Muhammadu Ubale Dan-Kawu (APC)
Tudun Wada
1,204
228,658
Tudun Wada
710
Engr. Ibrahim Nayola (APC)
Doguwa
1,473
150,645
Riruwai
710
Alh. Ali Abdu Doguwa (APC)
Madobi
273
137,685
Madobi
711
Alh. Lurwanu Umar Kanwa (APC)
Kura
206
143,094
Kura
711
Alh. Basiru Abubakar Turaki (APC)
Garun Mallam
214
118,622
Garun Mallam
711
Alh. Sa'adu Abashe (APC)
Bebeji
717
191,916
Bebeji
711
Alh. Mudansir Umar Bebeji (APC)
Kiru
927
267,168
Kiru
711
Nasiru Mu'azu Kiru (APC)
Sumaila
1,250
250,379
Sumaila
712
Abdulhamid Idris Rimi (APC)
Garko
450
161,966
Garko
712
Arc. Hamza Said Garun Ali (APC)
Takai
598
202,639
Takai
712
Alh. Inusa Abdullahi Dambazau (APC)
Albasu
398
187,639
Albasu
712
Alh. Hamisu Abdulhamid (APC)
Gaya
613
207,419
Gaya
713
Alh. Lawan Saleh (APC)
Ajingi
714
172,610
Ajingi
713
Alh. Isa Abdulkadir Tsangaya (APC)
Wudil
362
188,639
Wudil
713
Bello Abubakar (APC)
Warawa
360
131,858
Warawa
713
Alh. Ibrahim Abdullahi Danlasan (APC)
Dawakin Kudu
384
225,497
Dawakin Kudu
713
Alh. Maikudi Yusuf 'Yargaya (APC)
Southern Kano State
11,554
3,410,922
710 to 713
Languages
The official language of Kano State is Hausa language, but Fulani languages is commonly spoken.
Population
According to the 2006 PON census figures from Nigeria Kano State had a population totaling 9,401,288. Officially, Kano State is the most populous state in the country. The state is mostly populated by Hausa people.
We Appreciate your opinion and we look forward to it. Hence, if you need us to feed you with more updated information at the right time about List of Airport in Nigeria, kindly provide us your phone number and email Address in the comment box below.
Share this information with your friends. Also feel free to ask any questions pertaining to this Page Don't forget to like us on Facebook Page
Tags: History of Kano State, History of Kano State Nigeria, Nigeria