History
The region of the state was created out of Cross River State on September 23, 1987 by the then Military Administration of General Ibrahim Badamosi Babangida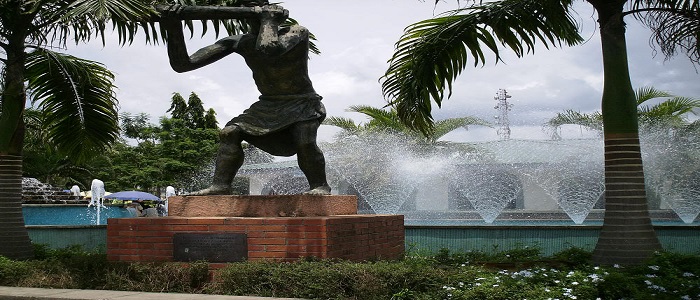 Location
Akwa Ibom is a state in Nigeria. It is located in the coastal southern part of the country called the Niger Delta, lying between latitudes 4°32′N and 5°33′N, and longitudes 7°25′E and 8°25′E. The state is located in the South-South geopolitical zone, and is bordered on the east by Cross River State, on the west by Rivers State and Abia State, and on the south by the Atlantic Ocean and the southernmost tip of Cross River State.
Related Post: Akwa Ibom State International Airport
Akwa Ibom is one of Nigeria's 36 states, with a population of over five million people. The state was created in 1987 from the former Cross River State and is currently the highest oil- and gas-producing state in the country. The state's capital is Uyo, with over 500,000 inhabitants. Akwa Ibom has an airport and two major seaports on the Atlantic Ocean with a proposed construction of a world-class seaport Ibaka Seaport at Oron. The state also boasts of a 30,000-seat ultramodern sports complex. It is shaped like the Allianz arena stadium and it has modern and world-class facilities. Akwa Ibom state is also home to the Ibom E-Library, a world-class information centre. In addition to English, the main spoken languages are Ibibio, Annang, Eket and Oron
Area:
Akwa Ibom State currently covers a total land area of 7,249 square kilometers.  The area does not take into consideration disputed territories.  It is the 10th largest state in Nigeria in terms of landmass.  About 13.4 percent of the 960km of Nigeria's Atlantic Ocean coastline runs through  the State.
Political Setting:
Akwa Ibom is one of the 36 States in the Nigerian Federation.  The State is divided into 31 local government  areas with Uyo as the State capital.  Other major towns include; Eket, Ikot Ekpene, Ikot Abasi, Oron, Abak, Itu, Etinan, Ibeno, etc.
People
The people of Akwa Ibom State are culturally homogenous with a common identity and are reputed to be the first settlers in the present day South Eastern Nigeria. The three major dialectal groups are Ibibio,
Annang and Oron.  Other sub groups include Eket, Ibeno, Itu Mbonuso and the Andonis.  English is the language of government and business.
Population
With the annual growth rate of the population projected at 3.4%, the 2016 projected population is estimated at 5,451,277 people as follows;
Female         2,680,687
Male              2,770,590
Total             5,450,758
Vegetation:
Akwa Ibom falls within the tropical zone with a dominant vegetation of green foliage of trees and shrubs. It constitutes a major chunk of the nation's oil-palm belt.  The Atlantic coastline stretches 129km from Oron in the East to Ikot Abasi in the West.
The State also has three distinct vegetation zones: the saline water swamp forest, the fresh water swamp forest and the rain forest.
Climate:
Akwa Ibom State has a tropical climate marked by two distinct seasons:
The dry season (November – March, ) and
The Wet season April – October).
The wet season is usually interrupted by a short dry period in August.  Average temperature of the State ranges from 23 to 31 degrees centigrade.
Main Economic Activities
The main economic activities of the people are fishing (for riverine and coastal dwellers), farming (mostly for upland dwellers), trading, artisanship and white-collar services.  A robust public sector employs significant proportion of the State labour force.
Growth Rate:
Akwa Ibom State Average Growth Rate is estimated at 3.2%
Culture
Akwa Ibom is often described as a uni-cultural State where norms, taboos, customs and traditions are the same.
The folkways may vary from one ethnic grouping to another, but the operational cultural norms are basically the same all over the State.  The cultural similarities  bind the people together especially in such areas as cuisines, dressing, dances, songs, rituals, folklores, beliefs and myths.  Almost all aspects of its culture have potentials to provide fascinating experiences for tourists and for investment opportunities.
Special Dances
Asian Ubo Ikpa
Asian Uboikpa means the proud and flamboyant maiden. This dance is performed by maidens between the age of 18 years and 25 years who have successfully gone through the 'Mbopo' institution. Mbopo being the period a girl is confined, fattened and drilled on all aspects of home management in preparation for marriage. It is common in almost all the hinterland of the State. Performed by maidens at their prime, Asian Uboikpa therefore is in its visual appeal and celebrates and affirm the youthful innocence and purity in their beauty, while showcasing the popular admonition among the Akwa Ibom people that chastity once lost is lost forever.
Oko
Oko is the male dance which is likened to the war dance because of its ferocious displays. The climax of this dance starts when the dancers' start slashing at one another with razor sharp machetes and firing at themselves with live bullets from Dane guns. But mysteriously, not a drop of blood is shed as the machetes cannot penetrate the skin of the dancers, or the bullets hurt any of the members of what is obviously a secret society.
Nkerebe
Nkerebe (looking for husband) is another women dance, performed once a year when young girls at the age of puberty prepare to perform the Mboppo nceremony.
Asian Mbre Iban
Asian Mbre Iban are dances performed by maidens who wish to inform unmarried men of the community how beautiful and eligible they are. Other women dances include Akan, Asamba and Uwok which is performed in the villages occasionally.
Ndok Ufok Ebe
The Ndok Ufok Ebe (shame of a bad marriage) is another women dance to express their grievances over maltreatment of women by their husbands. The dance is performed once a year. It is accompanied by songs telling the community about their plight, often, it involves going topless to the market place.
Ebre
There is also the Ebre society women dance performed yearly during harvesting of new yam. During this occasion, women dance to the market place and neighbouring villages. The dance is not only meant to entertain but as well as deliberate protest against what is regarded as male chauvinism, which is reflected in the vulgarity of some of the song texts.
Ministries Departments and Agencies (MDAs) in Akwa Ibom
Here are the list of ministries in Akwa Ibom
Akwa Ibom State Ministry of Justice
Akwa Ibom State Ministry of Agriculture and Food Sufficiency
Akwa Ibom State Ministry of Finance
Akwa Ibom State Ministry of Works
Akwa Ibom State Ministry of Education
Akwa Ibom State Ministry of Environment
Akwa Ibom State Ministry of Transport & Petroleum Resources
Akwa Ibom State Ministry of Local Government and Chieftaincy Affairs
Akwa Ibom State Ministry of Lands & Town Planning
Akwa Ibom State Ministry of Information & Strategy
Akwa Ibom State Ministry of Health
Akwa Ibom State Ministry of Science & Technology
Akwa Ibom State Ministry of Women Affairs and Social Welfare
Akwa Ibom State Ministry of Youth & Sports
Akwa Ibom State Ministry of Housing & Special Duties
Akwa Ibom State Ministry of Economic Development Labour and Manpower Planning
Akwa Ibom State Ministry of Investment, Commerce and Industries
Akwa Ibom State Ministry of Culture and Tourism
Akwa Ibom State Bureau of Political/Legislative Affairs and Water Resources
Akwa Ibom State Bureau of Rural Development & Cooperatives
Akwa Ibom State Roads and Other Infrastructure Maintenance Agency – AKROIMA
Local Government Areas
Akwa Ibom State consists of thirty one (31) local government areas. They are:
Abak
Eastern Obolo
Eket
Esit-Eket
Essien Udim
Etim-Ekpo
Etinan
Ibeno
Ibesikpo-Asutan
Ibiono-Ibom
Ika
Ikono
Ikot Abasi
Ikot Ekpene
Ini
Itu
Mbo
Mkpat-Enin
Nsit-Atai
Nsit-Ibom
Nsit-Ubium
Obot-Akara
Okobo
Onna
Oron
Oruk Anam
Ukanafun
Udung-Uko
Uruan
Urue-Offong/Oruko
Uyo
Demography
The people are predominantly Christian. The main ethnic groups of the state are:
Ibibio
Annang
Oron
Eket
Obolo
Including their Efik brothers and sisters of Cross River State, they speak various dialects of the Efik-Ibibio Language, which belongs to the Benue–Congo language family, which forms part of the Niger–Congo group of languages.
Despite the homogeneity, no central government existed among the people of what is now Akwa Ibom State prior to the British invasion in 1904. Instead, the Annang, Oron, Efik, Ibonos and Ibibio were all autonomous groups.
Although several Scottish missionaries arrived in Calabar in 1848, and Ibono in 1887, the British did not firmly establish control of the area until 1904. In that year, the Enyong Division was created encompassing the area of the current state of Akwa Ibom, with headquarters at Ikot Ekpene, an Annang city described by the noted Africanist Kaanan Nair, as the cultural and political capital of Annang and Ibibio.
See Also: Akwa Ibom State International Airport
The creation of Enyong Division for the first time allowed the numerous ethnic groups to come together. This further provided a venue for the creation of the Ibibio Welfare Union, later renamed Ibibio State Union. This social organization was first organized as a local development and improvement forum for educated persons and groups who were shut out from the colonial administration in 1929. Nonetheless, some historians have wrongly pointed to the union to buttress their argument about the homogeneity of groups in the area.
 The Obolo Union, comprising Ibono and Andoni stock, was another strong socioeconomic and cultural organization that thrived in the region. The Ibono people have fought wars to maintain their unique identity and territory in the region more than any other group.
When Akwa Ibom state was created in 1987, Uyo was chosen as the state capital to spread development to all regions of the state.
Education
The Akwa Ibom State Ministry of Education is tasked with monitoring the education sector of the state. The current region of Akwa Ibom State in old Calabar Kingdom was the first to encounter Western education in Nigeria with the establishment of Hope Waddell Training Institute, at Calabar in 1895, and the Methodist Boys' High School, Oron in 1905 as well as other top schools such as the Holy Family College at Abak and Regina Coeli College in Essene.
Some educational institutes in the state are:
University of Uyo, Uyo
Maritime Academy of Nigeria, Oron
Akwa Ibom State University [Oruk Anam LGA And Mkpat Enin LGA]
Obong University, Obong Ntak
Akwa Ibom State Polytechnic Ikot Osurua
Uyo City Polytechnic Nduetong Oku
Apex Polytechnic
Heritage Polytechnic, Eket
School of Nursing; Uyo, Eket, Oron, Ikot Ekpene, Etinan
Akwa Ibom State College of Education, Afaha Nsit
School Of Basic Studies Abak
College of Arts & Sciences, Nnung Ukim
Ritman University
Sure Polytechnic, Ukanafun
Notable People from Akwa Ibom State
Obong Victor Attah Former governor of Akwa Ibom State
Udom Gabriel Emmanuel, Governor of Akwa Ibom State from May 2015 to date
Senator Ita Enang Senior Special Assistant to President Muhammadu Buhari
Godswill Obot Akpabio Former governor of Akwa Ibom State. Former Senate Minority Leader
Idongesit Nkanga Former military governor of Akwa Ibom State
Effiong Bob
Chris Ekpenyong Former deputy governor of Akwa Ibom State in the Victor Attah administration.
Ufot Ekaette, Secretary to the Government of the Federal Republic of Nigeria from 1999 to 2007 under President Olusegun Obasanjo
Onofiok Luke, the 11th Speaker of the Akwa Ibom State House of Assembly and the Pioneer Speaker of the Nigeria Youth Parliament.
Akpan Isemin Elected governor of Akwa Ibom State in Nigeria from January 1992 to November 1993 during the Nigerian Third Republic
Late Dominic Cardinal Ekandem (CFR) first cardinal in English-speaking West Africa. First Nigerian Cardinal to qualify as a candidate to the papacy.
Late Chief (Dr) Clement Isong (CFR) second governor, Central Bank of Nigeria. First civilian governor of the former Cross River State
Charles Bassey, member of 1980 Super Eagles, winner of African Cup of Nations
Samuel Okon Peter (OON), (DSP) World heavyweight boxing champion.
Vincent Enyeama Professional footballer (Goalie) and former Super Eagle captain.
Chief Don Etiebet, Former Minister of Petroleum
Nse Ikpe-Etim, Nollywood Actress
Ini Edo, Nollywood Actress
Ime Bishop Umoh, Nollywood Actor
Etim Inyang, Former Inspector General of the Nigerian Police Force (I.G.P) 1985 to 1986
Politics
Politics in Akwa Ibom state are dominated by the three main ethnic groups, the Ibibio, Annang and Oron. Of these three, the Ibibio remain the majority and have held sway in the state since its creation. For the past eight years, the Annang people held sway, since the governor for those eight years was from Ikot Ekpene senatorial district.
We Appreciate your opinion and we look forward to it. Hence, if you need us to feed you with more updated information at the right time about Akwa Ibon News, kindly provide us your phone number and email Address in the comment box below.
Share this information with your friends. Also feel free to ask any questions pertaining to this Page Don't forget to like us on Facebook Page
Tags: About Akwa Ibom State, About Akwa Ibom State Nigeria, Akwa Ibom State News, History of Akwa Ibom State Nigeria, The History of Akwa Ibom State