If there is a Nigerian footballer Levski football club will always remember for helping them through the UEFA cup, then it'll certainly be Richard Eromoigbe. The Nigerian midfield maestro has showed the best he could offer in the course of his career.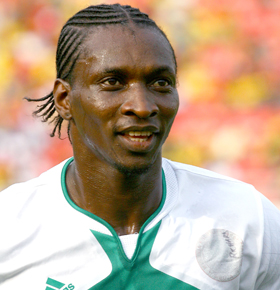 Do you care let's look who this player is? His career, clubs, family, properties and subsequently net worth.
Who Is Richard Eromoigbe?
Richard Eromoigbe was born on 26 June 1984 in Lagos. He is a Nigerian footballer who plays best as a midfielder for his clubs.
Personal information
Full name: Richard Eromoigbe
Date of birth: 26 June 1984
Place of birth: Lagos , Nigeria
Height: 1.77 m (5 ft 9 1 ⁄ 2 in)
Playing position: Midfielder
Career
Eromoigbe signed a contract with Bulgarian club Levski Sofia in early 2002 and joined Cherno More Varna in a year-long loan move, alongside his compatriot
Emanuel Baba. Richard made his first league appearance for the club in a 2–1 defeat at Spartak Pleven on 28 April. For the most part of his time at Cherno More, Eromoigbe was a substitute, making only eight A PFG appearances.
See: Godswill Akpabio International Stadium
In December 2002 Richard Eromoigbe returned to Levski and since had to wait till 28 September 2003 to make his Levski debut. He featured in a 0–0 home draw against Cherno More.
The Nigerian veteran midfielder became a regular feature in the Blue team during the following 2004–05 campaign, partnering Daniel Borimirov in the centre of midfield and playing a number of important matches.
Eromoigbe started in Levski's 2005 Bulgarian Cup Final win over CSKA Sofia on 25 May 2005.
Eromoigbe recorded an achievement in the 2005–06 season as he helped Levski reach the quarter-finals of the UEFA Cup . On 9 September 2006, he scored his first goal at club level in an 8–0 win over Marek Dupnitsa.
He started the 2007/2008 season with Levski but on 26 February 2008 he was bought by the Russian FC Khimki. On 23 July 2008 Eromoigbe was on trial at
Derby County, however Paul Jewell decided not to offer him a contract.
Eromoigbe was released by Khimki on 15 September 2009 and returned to
Nigeria to play for Warri Wolves. In the transfer window of January 2011, he signed a contract with Cyprus club
Anorthosis Famagusta FC .
Eromoigbe became a free agent and was out of contract with Alki Larnaca before being signed by Beroe manager Ilian Iliev on 5 January 2012.
International Career
As a player, It's pertinent they should represent their country in the international level. This is encouraging as it will show patriotism and also let them have another challenge.
However, Richard Eromoigbe didn't have a representation for his country in any international outing.
Honours and Awards
Richard Eromoigbe has in the best of his ability been able to achieve honors and few we can mention include:
Champion of Bulgaria 2006, 2007
Holder of Bulgarian Cup 2005, 2007
Bulgarian Supercup 2005, 2007
Richard Eromoigbe Net Worth
Football involves showing all your potentials and having a good achievement. This will be followed by an augmented payouts which will consequent for the efforts.
Richard Eromoigbe is not an exception as he has displayed all what he could in the time he'd.
The net worth for the midfielder, Richard Eromoigbe is estimated to be in the region of $1.1 million, after a go through of his profile.
Tags: Biography of Richard Eromoigbe, Biography of Richard Eromoigbe and Net Worth, Richard Eromoigbe, Richard Eromoigbe and Net Worth, Richard Eromoigbe Net Worth