The detailed information about the ex footballer and coach, Michael Emenalo is elucidated below for you.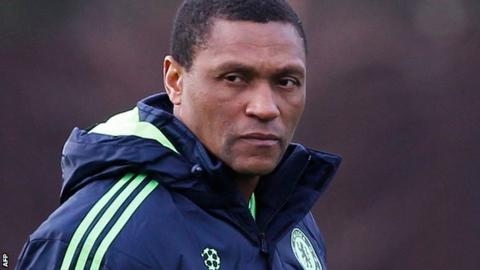 About Michael Emenalo
Born on July 14th, 1965 in Aba, Abia State, Nigeria. Emenalo is a former Nigerian football player, who after playing his career opted to do the coaching part of the game. He is currently a sports director in France.
Michael Emenalo Family
Emenalo is married to Erin Emenalo.
Her wife also a coach for several clubs and currently works as a soccer goalkeeping coach.
Personal information
Full name Michael Emenalo
Place of birth Aba , Abia, Nigeria
Height 1.85 m (6 ft 1 in)
Playing position Defender
Career
Emenalo had a first experience with Enugu Rangers of which he kickoff his career in 1985 before moving to play in the United States for Boston University from 1986 to 1989.
After staying in the United States with Boston, he played for Molenbeek in Belgium, Eintracht Trier in Germany and Notts County F.C in England before going back to the US.
Emenalo was part of the original allocated players for Major League Soccer and spent two seasons (1996 to 1997) with the San Jose Clash. After that, he played with Lleida in Spain and Maccabi Tel Aviv in Israel.
International career
Emenalo won 14 caps for Nigeria and played in the 1994 FIFA World Cup, missing the first game due to an injury, but played against Argentina and Greece, before Nigeria got ousted by Italy.
Coaching Career
Emenalo was hired by Chelsea under Avram Grant in 2007, rising through the ranks in both scouting and coaching roles.
After the departure of Ray Wilkins, Emenalo was promoted from his position as chief scout to assistant first team coach on 18 November 2010. The tactician last position at the Chelsea was Technical Director.
He resigned for Mourinho to be brought back in 2013, but his resignation was rejected.
On 6 November 2017, he resigned as technical director of the club, and joined French club AS Monaco as sporting director on 27 November 2017.
He spent a total of ten years under ten coaches during his stay at Chelsea.
During this time, the club picked 3 Premier League tittles, won the, League cup, Europa League, and the Champions League.
Michael Emenalo Net Worth
The former soccer star had a nice career adding with the coaching job he did at Chelsea, these and many more of his engagement has rewarded him largely.
Lets look at the former technical director net worth. His net worth is not available yet.
We hope to update his current net Worth when available. A reason why we couldn't get to know his net worth is because Michael barely disclose his private information so we were not able to authenticate his exact worth.
Tags: Biography of Michael Emenalo, Biography of Michael Emenalo and Net Worth, Michael Emenalo and Net Worth